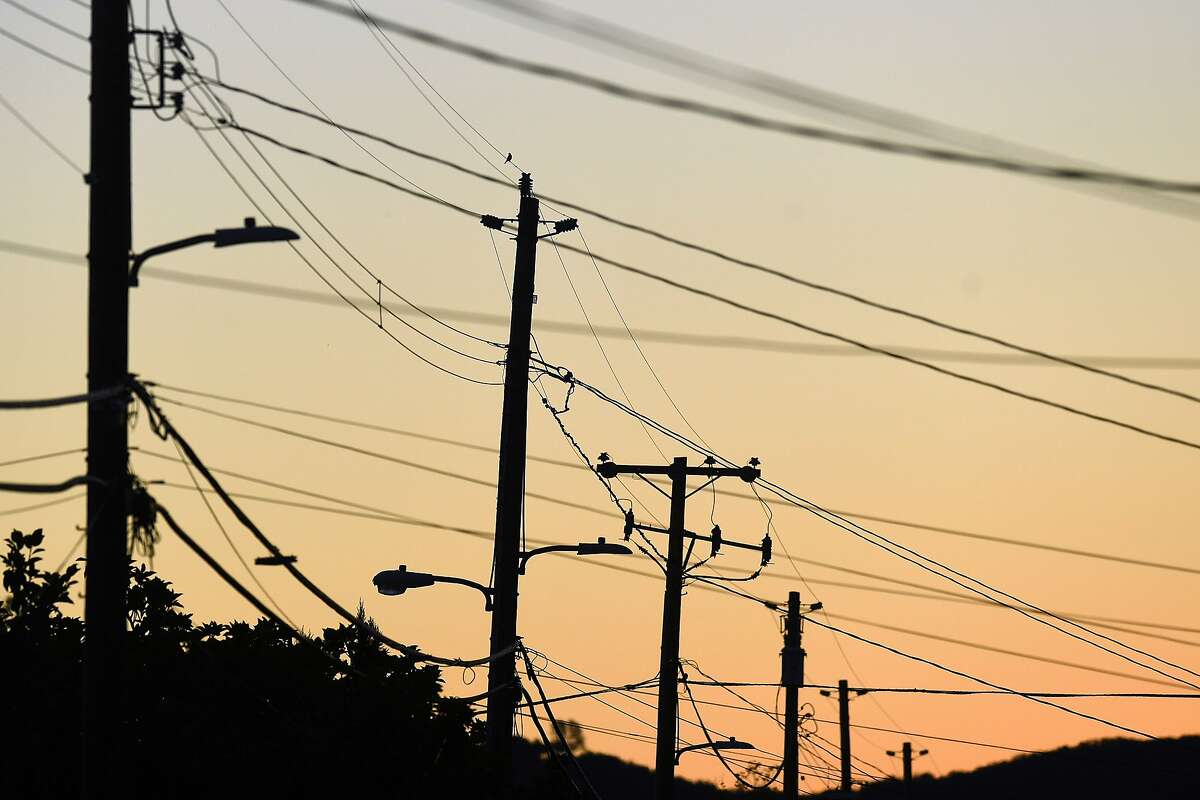 In a recent regulatory filing, PG&E mentioned an alarming scenario as the company explained how it has dramatically expanded its program to shut down power lines intentionally so that they do not spark more dangerous wildfires.  
The company will consider turning off high-voltage transmission lines like the one that failed right before the Camp Fire last year – which was confirmed by state investigators last week that PG&E equipment started the Camp Fire.
PG&E told state regulators because these types of transmission lines are so interconnected with the rest of the electrical grid, turning them off might have a "cascading effect" on places far away from the weather that led to the shutdown. 
That means a place like San Francisco, which is "highly unlikely" to experience the kind of weather that would cause an intentional power shutdown, might end up in the dark, PG&E said. 
"It is a real possibility," said Aaron Johnson, a PG&E vice president who has overseen the company's power shutoff program. 
San Francisco is still far less likely to experience an intentional PG&E power shutdown than a community in an area where the risk of wildfire is high, Johnson said. But power shutdowns are "possible, certainly, anywhere in our service territory," he said. 
San Jose power lines could also be shut down due to the same spillover effect that could affect San Francisco, PG&E told the commission. 
PG&E implemented power shutdowns for the first time last year after the devastating 2017 Wine Country wildfires. But the company did not include high-voltage transmission lines like the one at the Camp Fire's origin point, so even if PG&E had turned off power in the area on November 8 – a step it considered but did not take – that line would have remained energized. 
The company now faces responsibility for the deadliest and most destructive wildfire in the history of the state, which prompted PG&E to file for bankruptcy protection in January. 
Barbara Hale, assistant general manager in charge of power at the San Francisco Public Utilities Commission, acknowledged that "many residents will be surprised" if PG&E deliberately turns off their power. But she said the drastic measure could happen. 
"I'm not surprised, because I know it's an interconnected grid, and if enough of these big transmission lines come down, there's no way to keep the power on for everybody," Hale said. 
Electricity mainly enters the city from two locations: an underwater transmission line running through the bay, and a series of other lines running up the peninsula. It is not clear why the regulatory filing of PG&E only mentions the East Bay transmission lines as a potential trigger for a blackout in San Francisco. It is also unclear why the lines of the Peninsula could not necessarily compensate for an East Bay shutdown.  
The location of the city and the interconnected nature of the grid means that it would become "just not physically possible to keep the power up for everyone if enough of the transmission lines are shut down," Hale said. 
"We're very dependent on those lines, and if the lines that feed them are turned off to avoid wildfires, then yes, we will lose power," she said. 
California utility regulators are in the process of developing new standards for how wildfire prevention power shutdowns are conducted by utilities across the country, a measure that the investor-owned utility of San Diego has used for years. 
The proposed rules would direct investor-owned electrical utilities to use deliberate blackouts only "as a measure of last resort," and set guidelines as to how companies should warn their customers, among other measures. The commission of state utilities is scheduled to consider the proposal at its meeting on May 30. 
PG&E is trying to raise public awareness about how widespread power shutdowns could be through advertisements, emails, and letters to its customers. But the company's message to its electric customers is simple: Be prepared. 
Johnson, vice president of PG&E, said forced shutdowns are "not something we take lightly" and the company is "trying to do it thoughtfully, but PG&E customers need to be prepared for shutdowns "just like any other potential natural disaster in the state." 
Hale, the San Francisco utilities commission official, echoed that point. 
"Just as the city encouraged people to be prepared for earthquakes, people should be prepared to be powerless, plan what their family and friends are going to do to stay comfortable," she said. 
Even with Northern California rain lingering into May, dangerous conditions are on the horizon. Fire officials in Butte County announced that the 2019 wildfire season begins on May 20. 
Although Cal Fire has a start date for wildfire season, they say the end date will depend on the weather during the next several months.